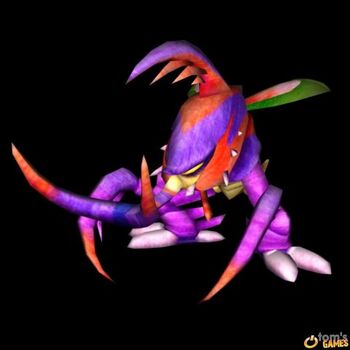 Volkaiser is a Fire-attributed Bug Divine Beast and the Most Evolved from of the
Demabugich
line. It's the look-alike of
Kataimel
, sporting almost the same stat layout as Kataimel, but a different color.
IN THE HEAT OF BATTLE...Edit
Volkaiser - as stated before - has almost the exact same stat layout as Kataimel. It focuses more on Spirit than Kataimel. Volkaiser's signature move, Kamikaze Hit (S), is the strongest fire move but it comes at a cost; your own HP takes 1/4 of the damage dealt to the enemy.
ITS LOOK-ALIKE...Edit
Volkaiser is the look-alike of Katamiel, a Wind-attributed Bug. Kataimel focuses on Strength more, while Volkaiser focuses on Spirit. Kataimel's signature move, Poison Storm (S), is the strongest Skill-type Wind move, and inflicts the strongest Poison (30 HP at the end of every passing turn).
Ad blocker interference detected!
Wikia is a free-to-use site that makes money from advertising. We have a modified experience for viewers using ad blockers

Wikia is not accessible if you've made further modifications. Remove the custom ad blocker rule(s) and the page will load as expected.