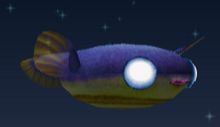 One of the three Divine Beasts you can choose to add to your team during the tutorial, Slimich is the default healer of the game. It is a Water-attributed Slimy Divine Beast. Like all Larval Slimies it resembles a tadpole with fins on its sides and large eyes. Its evolutions are Ginui, Ginuba and Ginugon.
IN THE HEAT OF BATTLE... Edit
Slimich is probably your first healer and will likely remain so throughout the game. With good defense and MP but average Wisdom and low Speed, it isn't the best attacker but does make for a sturdy back-up, especially if equipped with the Guts ability. If you do equip it with an offensive spell, it usually attacks the center beast, or the Beasthunter if exposed.
ITS LOOK ALIKE... Edit
Difslimich is the Earth-attributed version of Slimich, which can be obtained through item merging or collecting Slimy medals. Difslimich and its evolutions look like green versions of the Slimich line, and specialize in spells which raise attack.
IN THE BEAST NOTES... Edit
Although its health is low, its inborn magic is strong and its resistance is strong.
Larval Slimy
HP: D Rank
MP: C Rank
STR: 1/5
SPD: 1/5
WIS: 1/5
SPT: 2/5
VIT: 1/5
Ad blocker interference detected!
Wikia is a free-to-use site that makes money from advertising. We have a modified experience for viewers using ad blockers

Wikia is not accessible if you've made further modifications. Remove the custom ad blocker rule(s) and the page will load as expected.