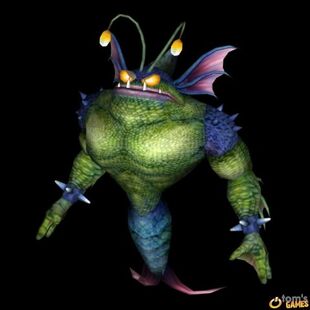 Ngonga is a Water-attributed Na Divine Beast and is the Most Evolved from of the Gabnach line. It is used on Cinnamon's team, and is pretty well-balanced for any BeastAmulet.
IN THE HEAT OF BATTLE...Edit
Ngonga's stats cannot be matched in terms of balance; this beast is the most balanced of all 3 Na types. Its signature move, Psycho Crash (S), damages not HP, but MP instead.
ITS LOOK-ALIKE...Edit
Machoang is the Earth-attributed version of Ngonga. It has similar stat layouts, but differing colors. Its signature move, Earth Protect (A), halves the damage done by any move directly attacking it (i.e. only Skills).
Ad blocker interference detected!
Wikia is a free-to-use site that makes money from advertising. We have a modified experience for viewers using ad blockers

Wikia is not accessible if you've made further modifications. Remove the custom ad blocker rule(s) and the page will load as expected.